Belgium Fan-Bracelet Book - Heroes of Mariah

En français, ci-dessous. In het Nederlands hieronder.
We all know that Mariah doesn't come to Belgium for a concert, but as a lot of Belgian fans will travel to other countries to see her, a Belgian fan book will also be given.
What is the "Fan-Bracelet"-Project?
Ryan and Kelly came up with this fan project. This is an amazing fan project for the 2003 Charmbracelet World Tour! A fan book will be presented to Mariah at each tour stop. By the end of the tour Mariah will have collected many books. All these books will contain things from her fans all around the world. Mariah will be notified of this project through the first book that is given to her. She will then be aware of it and be looking forward to a new book at each show. If we can all come together (Asia, North America and Europe), we can make this, one of the biggest fan projects of all time!!
What are the entries I can submit?
Send what you want, I'll print it. However, be sure that the size of your e-mail wich you send for the fan book is not above 250KB, thanks.
How and where do I send my entry for the Belgium Fan-Bracelet book?
Please contact Gilles, only by e-mail at: staff@heroesofmariah.com
Until when may I send my entry for the Belgium Fan-Bracelet book?
You may send it until September the 15th, this to let me the time to make something beautiful and original.

---
Nous savons tous que Mariah ne vient pas en Belgique pour un concert, mais comme beaucoup de fans belges se déplaceront pour aller voir Mariah dans un autre pays, un fan book belge sera remis également.
Qu'est-ce que le projet "Fan-Bracelet"?
Ryan et Kelly ont lancé ce projet. C'est un projet étonnant pour le Charmbracelet Tour 2003 !
Un fan book sera présenté à Mariah lors de chaque concert, dans le monde entier. A la fin de la tournée, Mariah aura alors rassemblé beaucoup de fan books. Mariah sera avertie de ce projet lors de la remise du premier book. A partir de ce moment, elle sera au courant du projet et attendra un nouveau book à chaque concert. Si nous nous mobilisons tous (l'Asie, l'Amerique du Nord et l'Europe) nous pouvons faire de ce projet, le plus grand projet de fans de tous les temps!!
Quelles sont les choses que je peux soumettre?
Envoyez tout ce que vous voulez, je l'imprimerai. Toutefois, veillez à ce que la taille de l'e-mail que vous m'envoyez pour le fan book ne soit pas supérieure à 250KB, merci.
Comment et où dois-je envoyer mon message pour le Fan-Bracelet Book de Belgique?
Contactez Gilles, uniquement par e-mail à: staff@heroesofmariah.com
Jusqu'à quand puis-je envoyer mon message pour le Fan-Bracelet Book de Belgique?
Vous pouvez l'envoyer jusqu'au 15 septembre, ceci pour me laisser le temps de faire quelque chose de joli et original.

---
Sorry voor mijn fouten in het Nederlands, maar ik doe mijn best. We weten allemaal dat Mariah niet in Belgie komt voor een concert, Maar als veel Belgische fans naar een andere land gaan om Mariah te zien, een Belgische fan book zal dus ook gegeven worden.
Wat is het "Fan-Bracelet" project?
Ryan en Kelly hebben dit project uitgevonden. Het is een uitstekend project voor de Charmbracelet Tour 2003 ! Aan iedere concert, een fan book zal gegeven worden Mariah. Aan het einde van haar Tour, Mariah zal dan veel fan books hebben. Mariah weet van dit project vanaf de eerste book. Ze verwacht dus een book aan ieder concert. Als we allen samen werken (Asie, Noord America en Europa) kunnen wij van dit project, de grootste allertijden maken!!
Hoe kan ik meedoen?
Stuur al wat je wil, ik zal het printen. Zorg toch dat de maat van de mail dat je stuur voor de fan book niet boven 250KB is, bedankt.
Waar en hoe moet ik mijn berichtje voor de Fan-Bracelet Book van België opsturen?
Neem contact met Gilles, alleen per e-mail naar: staff@heroesofmariah.com
Tot welke datum mag ik mijn berichtje voor de Fan-Bracelet Book van België opsturen?
Je mag je berichtje opsturen tot 15 september, en dat om mij tijd te laten voor iets mooi en origineel te maken.

---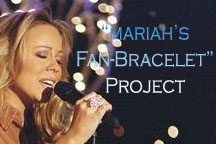 Copyrights and all rights are reserved to the owner of the rights.
This site is absolutly and totally against all Mariah rumors of all kind and most of all I will not tolerate any kind of fantasy.
Site owner : Gilles Ollevier
Heroes of Mariah 2000
E-mail : staff@heroesofmariah.com