Charmbracelet Tour 2003 - Cleveland, USA - Heroes of Mariah
8/3/03 The Scene Center
Setlist:
the tracks given might not be given in the correct order of performance:
* Heartbreaker
* Dreamlover
* Through The Rain
* My All
* Clown
* Can`t Take That Away
* Honey
* Subtle Invitation
* My Saving Grace
* I`ll be there [with Trey]
- - - > Friend Of Mine [Trey]
* Bringin` on the Heartbreak
* Fantasy
* Always Be My Baby
* Make It Happen
Encore:
* Vision Of Love
* Hero
* Butterfly [outro]
Reports:
By davide2001
Hi lambs,
Im at work still today still thinking about Mariah last night. She was amazing. She performed last night in Cleveland, outside at the Scene Pavillion off lake erie. The weather was about 75-80 with a nice slight breeze. The concert was scheduled to start at 8 but Mariah was a little fashionably late and started at 9:30. The tour opened with the Moulin Rouge inspired theme video then she came out of the crowd and did Heartbreaker(which turned into the remix). She looked soooooo amazing, she sparkled like a real diamond. Her "ensemble" was reminiscent of Nicole Kidmans opening outfit in Moulin Rouge. She performed all her hits, changed a TON of times. The short pink glittery opening outfit, a white tube dress, a burgandy dress, a gold evening gown, her 'Harley Davidson' ensemble, a pink glittery top with hot pink short shorts, the encore Roberto Cavalli feathery dress, and the 'china' dress. Because the concert was outside, Mariah said they had to change a few things but that she was going to deliver it all. She did say after the one song that she was supposed to come down from a white swing but that they told her it was a little too windy and not safe so inside the wheeled her out on the piano that she laid on. She also said it was her first time doing a concert outside but that the weather was perfect and the breeze was just right and she was "loving it". My favorite performance of the night was "Bringing on the Heartbreak" because she really got so into it and the crowd went crazy. She ran side to side on the stage draggin the mic stand while she totally belted out the song. She did read the signs people made for her because early on she said she thought they were cute and was going to try to sign them later on in the show. So if you're going make sure you take a poster because she does read them. She signed this one girls hat and some other thing because it was her birthday but security didnt want to let her so she said "oh no were having a problem with security, common guys help me convince him let her come up here." and everybody started booig the security then he let her, and she was like "that worked!" and she giggled. Oh yeah, I didnt read this anywhere else so i dont know if she has done it on the other shows, but when she introduced the band she totally did like a little rhyming song with their name and stuff, it was really cool. And when she introduced her back up singers she totally told the crowd about the one back up singer having man problems and that she was going to beat somebody up if they tried to take her man. They laughed so much, and the lady was embarrased. Then of course she introduced "Big Nasty" aka trey lorenz and they did "I'll be there". As for the merchandise, i think you guys have all seeing pics of the stuff. Im a little sad because i put my program under my seat and this guy next to me spilled beer and it got a little ruined And after the show they had already closed the little shop to buy another one. But other than that, Mariah has done it again. She definitely delivered for Cleveland and I am sure she will only get better as she goes alone. SO have fun to you who will see her in the coming days. Later!! :) David
Pictures:
Meet and Greet: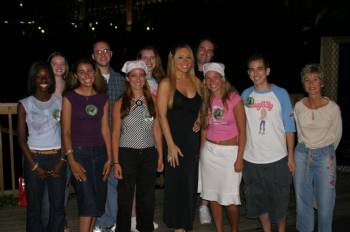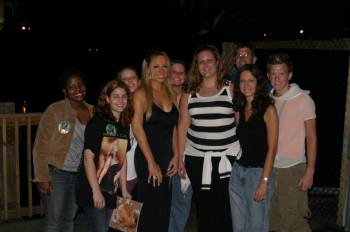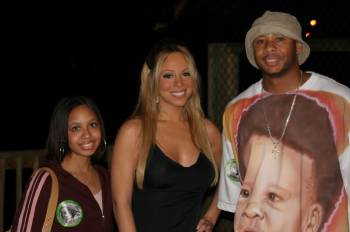 Thanks to davide2001 on MariahCarey.com message board for the report, MariahConnection for the Setlist and MariahCarey.com for the Meet and Greet pics.
Copyrights and all rights are reserved to the owner of the rights.
This site is absolutly and totally against all Mariah rumors of all kind and most of all I will not tolerate any kind of fantasy.
Site owner : Gilles Ollevier
Heroes of Mariah 2000
E-mail : staff@heroesofmariah.com