Mariah: Me and the sex thing
By Barbara Davies
Mariah Carey sat down alone in her hotel room, turned on the television and selected a film to watch.
It was Disney's The Little Mermaid, the poignant story of the fish-tailed girl who sacrifices her beautiful singing voice to go off in search of the man she loves.
"I don't know if that's funny or sad," she says.
In real life of course, she has no intention of giving up the singing career which has made her the world's best-selling female artist.
But there's still no sign of a man on the scene since her split from Mexican singer Luis Miguel two years ago.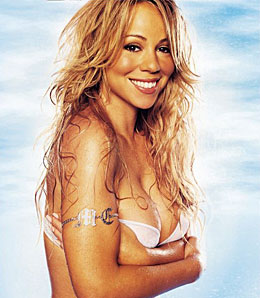 Single: Mariah

Not that the lack of a man on her arm appears to be a problem for the 33-year-old star.
"When I'm not in a relationship I hardly ever think about it," she says in the middle of a conversation about "the sex thing".
"That's why when I was alone last night, I ignored the adult channel and watched The Little Mermaid. I'm the exception to the rule in that I can turn it off.
"Don't get me wrong, I can click back into it immediately."
Listening to her confessions about life behind her bedroom door, in an interview with men's magazine Maxim, she sure can.
In one breath she describes herself as "a Mary Poppins type", in the next, she is admitting to having phone sex, making love to the sound of her own songs and debauched wardrobe sex sessions.
"Oh my goodness," she says laughing, "I did have phone sex when I had a boyfriend. To be honest I found it all a bit ridiculous.
"I felt so stupid but he started it and I just went along with it to keep him happy."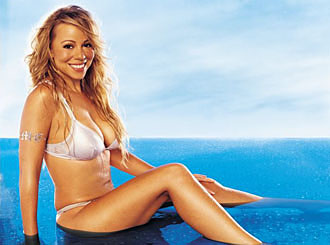 On Top: The diva is back with a new tour and a new outlook

Of making love to the sound of her own voice, she says: "It was a while back, but I remember it didn't freak me out. It was the guy's idea to put it on because he was a fan of mine before I met him."
That paled into insignificance alongside the occasion when she had sex in a wardrobe.
"It was in Florida," she recalls, "And in the closet of someone else's house. What you guys call the wardrobe. It was totally debauched but what I find so outrageous is it was in the closet."
And then there are the shoes she has worn in bed.
"I love my high heels," she admits, "I made sure they were clean so the sheets survived."
She also enjoys dressing up in sexy outfits for parties.
"My Halloween parties are the best and I'm going to throw one in London this year.
"At previous parties I've dressed as a sexy nurse, a cavewoman, a mermaid, a kitten, a lamb... a sexy version.
"The one that got most attention from the guys was the sailor suit and the black vinyl catwoman outfit."
But if she can switch off all thoughts of sex, Mariah makes no secret of the fact that when she brings her Charmbracelet tour to the UK next month, she will be looking for a boyfriend here.
"Men think I'll never be interested in them because I'm a star and can have whatever I want," she says. "I'll take whatever as long as they're tall.
"I'm pretty tall so I usually end up with guys smaller than me. So it's got to be a guy that's bigger than me. A nice Englishman would be good too."
She denies reports she had a fling with Jamie Theakston, despite the fact that he fits her description perfectly.
"That's another big fat lie that I have to nail," she retorts, "I never went out with Jamie.
"We merely made a joke about it once and the next thing I know, we're supposed to be getting married.
"I do like Jamie but nothing ever happened."
Judging by the recent photoshoot she did to mark her new tour, Mariah is unlikely to have any problems finding a suitable man to fill the vacancy in her life. The images of the star in a white bikini and silver stilettos are her raunchiest to date.
Her oft scrutinised 5ft 9in figure looks slim and honed, a look she attributes to sheer hard work.
"I've been working out loads doing water aerobics," she says. "I have a trainer who really cracks the whip - she's very forceful with me and that's what I needed."
Mariah won't rule out getting a tattoo, but stops at that.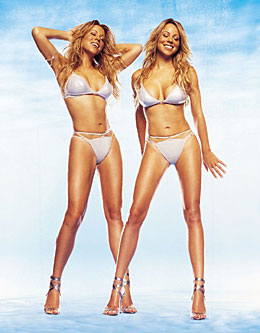 Stunning: In white bikini and silver stilettos

"I guess a tattoo could be cute so I'd go for that," she says, adding: "I wouldn't want to get abusive to my nipples. I'll leave the nipple and genital piercings to the likes of Janet Jackson."
In Japan, where she has just finished the Far East leg of her tour, Mariah has been voted the sexiest woman in the world.
She is also worth a reputed £150million and admits she has no idea what her credit card limit is.
"I get all my money from my accountant," she says. "I ring him up and he'll call round with a big bag of cash whenever I need it. He's my cashpoint."
But despite her perfect figure and lavish fortune, life hasn't always been so straightforward.
Her first marriage, at 17, to Sony music mogul Tommy Mottola, who was 20 years older, made her claustrophobic.
"My marriage to Tommy was confining," she says. "I had to wear turtlenecks and long pants it just wasn't me. And I had the unique position of being in the business and hearing the way people talk about artists behind their backs.
"Everybody wants to be a big power couple in Hollywood but at the end of the day who really cares?
"The one thing marriage has taught me is that I should stay away from it."
Mariah has suffered from accusations she is a diva, with reports she once demanded puppies be delivered to her dressing room and told assistants "I don't do stairs".
"I'm sorry to disappoint you but I never said that," she insists.
"There are so many of those stories. There are rumours that I refuse to walk on grass or carpet.
So how do people think I get from A to B? I guess I must hover. I'm just not one of those people who demands things just because they can.
"If I need something, then let's get it. Otherwise I'm pretty easy going."
She is also keen to remind her fans that life wasn't always so rosy, and has vivid memories of the worst job she ever took on.
She said: "I used to sweep up hair in a salon and quit after one day. It was one of those places where they change everyone's name to be more showbiz.
"They tried to give me the name Echo. I told them, 'if Mariah isn't exotic enough for you, then I'm out of here'."
Her career hasn't always run smoothly. The 2001 film Glitter bombed at the box office and Mariah was admitted to a clinic suffering from exhaustion.
Then last year, her record label EMI dropped her, buying up her contract for £38million.
But on the eve of her UK tour things are looking up. She stars in a comedy film Sweet Science, as a boxer opposite Muhammad Ali's daughter Laila.
And her UK Charmbracelet tour has proved so popular an extra date has now been added.
________________

Her Tour dates
Mariah Carey's Charmbracelet Tour starts in the UK in October. The dates and venues are as follows:
Glasgow - October 25 - SECC
Birmingham - October 28 - NEC
London - October 30 - Wembley Arena
Manchester - November 1 - MEN Arena
Mariah's Remix Album is released on October 13 on Columbia Records.
Source: Mirror.co.uk (All rights reserved)
Posted on September the 21st.